Welcome to the Imperceptible Review, an occasional email newsletter published from Urbit by the Imperceptible City. If you received this from a friend, subscribe for yourself at imperceptible.review.
---
TLDR: The Urbit network is on track to have 1.8M activated planets by April 2023. That's 77x the current number. In this post, we'll analyze the historical network data and present a simple forecasting model.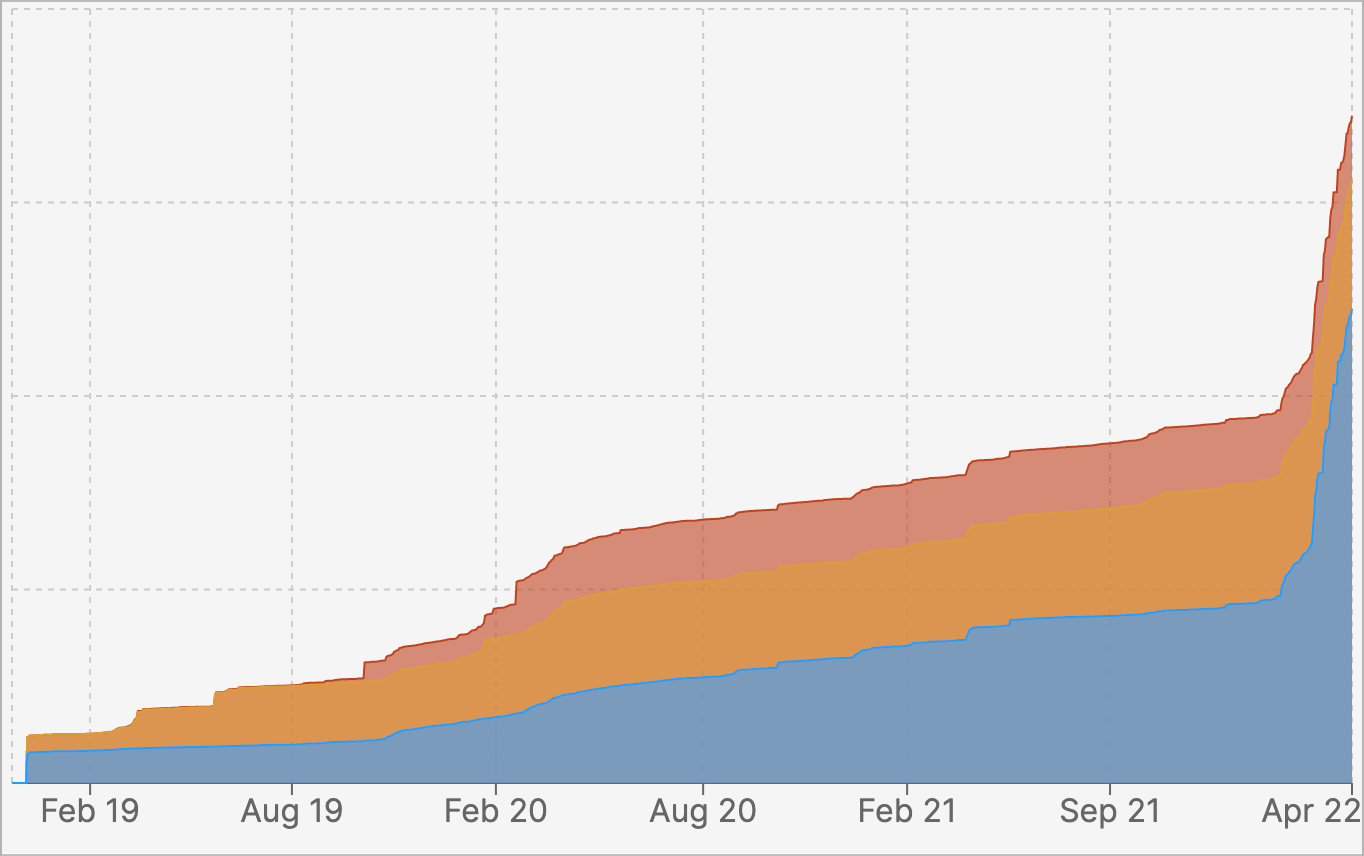 Number of activated planets on the Urbit Network, December 2018 to April 2022. Source: network.urbit.org
At the beginning of 2021, there were 8,565 activated planets on the network.
By February 6 of this year there were still only about 11,911 activated planets.
Growth was slow because Ethereum gas fees made it prohibitively expensive to spawn planets.
Then everything changed. Tlon engineers shipped a custom Layer 2 solution.
Suddenly, it only cost a few bucks to spawn a planet, and Tlon covered it anyway.
I spawned my first Layer 2 planet, for free, on February 7. I remember because I made this tutorial on how to do it.
Between January 2021 and the introduction of Layer 2, Urbit was adding about 239 planets per month, on average. That's a growth rate of about 2.8% monthly.
In the last two months, Urbit grew to 23,363 activated planets, roughly doubling the number of planets activated over Urbit's entire lifespan theretofore.
We added 11,452 planets in 2 months, or about 5,726 planets per month.
Another way to put it: In 2022, Urbit is now seeing a monthly growth rate of about 48%, roughly a 16x acceleration relative to its growth rate in 2021.
If growth continues at this rate over 2022, we'll have almost 2M activated planets by this time next year.
We can visualize the network growth we'd expect if we assume that the next 12 months with Layer 2 are similar to the first two months of Layer 2. I consider this a reasonable assumption.
Let's treat the expected monthly growth rate as a distribution and assume that over the next 12 months, it will be plus or minus 10 points from the 48% monthly growth rate we've observed so far. 38% pessimistically, 58% optimistically.
The point estimate 12 months out would be 1.8M activated planets, with the pessimistic expectation being 1M and the optimistic expectation being 2.8M.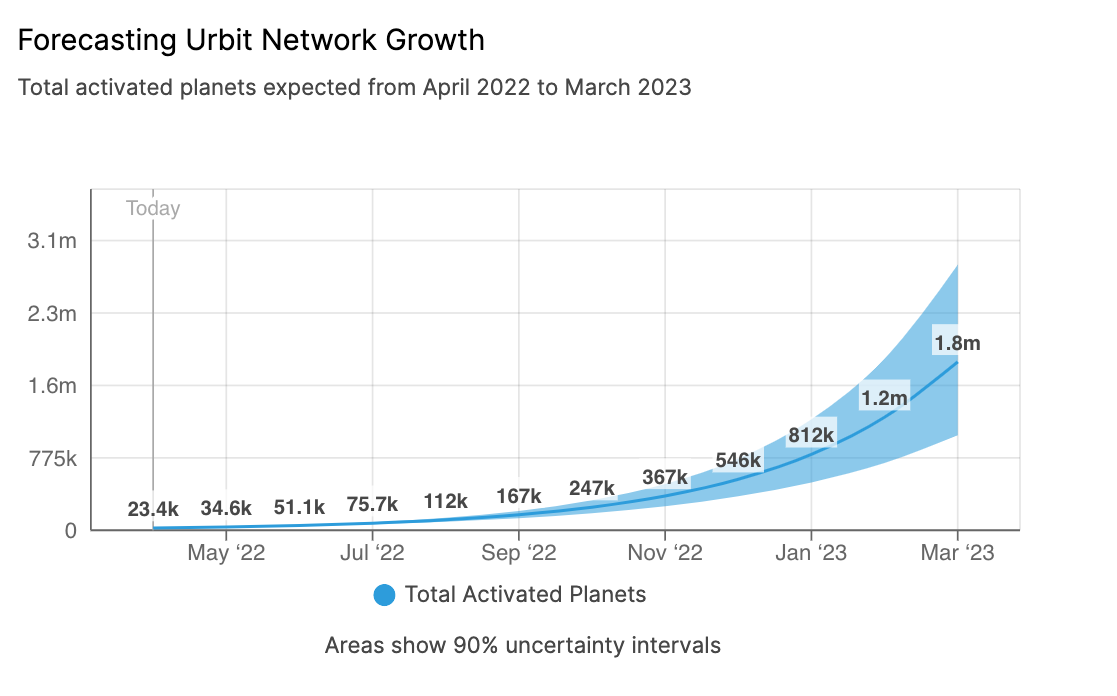 Urbit takeoff isn't coming. Urbit takeoff is here.
---
To read more and reply, visit the Review's notebook in the Imperceptible City: ~hatryx-lastud/other-life

To get your own Urbit planet and setup a free newsletter like this one, visit imperceptible.computer.
---
Thanks for reading the Imperceptible Review, an Urbit-native newsletter published from the Imperceptible City using Studio.
Highlights and gossip from the distributed insurgency against BOOMERWEB hegemony, a telecommunicative retrovirus subculturally propagated by K-Goth activity throughout the Crypt.